Freedom to Change a Scene and Intimate Atmosphere In A Dining Room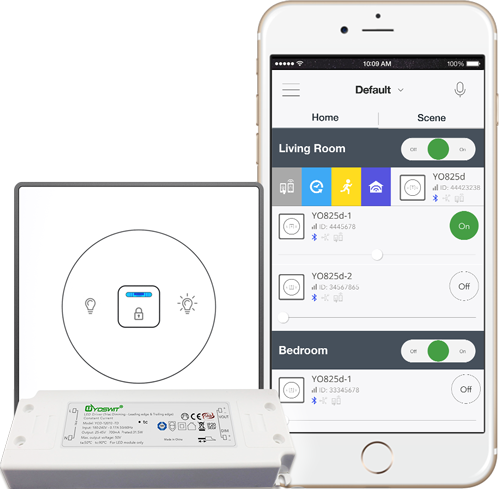 Run Your Home from Your Phone
With the free Yoswit app, you can control your smart devices with a simple tap, and automate your home to respond to your unique preferences.

You can easily customize Yoswit to operate in new and different ways by using the App. Just set scenes for what you'd like your smart devices to do when you're asleep, awake, gone, or back home, and Yoswit will do the rest.
---
Intelligent Home Experience

Remote Control
Direct remote control lightings and appliances from your smartphone, no hub or router is needed.

Schedule Timers
Provide multiple recurring timers to automate your home, these timers are saved in Yoswit.

Rooms and Scenes
Set a room to control all devices together or set a scene to push the preset mode with a simple click.

Away Detection
Sense your arrival and leaving and automate managing lightings, curtains, locks, and appliances.

Mob-Mob Hub
A patented solution to connect your smart home wherever you are, even without wifi connection.

Password Protection
Set a password to prevent unpermitted control, simplify the setup with profile sharing.
General
Product Name
Yoswit 0-10V/ 1-10V/ potentiometer/ 10V PWM (3 in1 ) Dimmable Constant Voltage LED drivers
Model
YO680-D12010-P-DIM
Revision
V1
Compliance
CE, SAA, RoHS
Manufacturer
Designed by Yoswit in Hong Kong. Assembled in China.
Dimensions
Product Size

Product Weight
200g/450g/950g
Mechanical
Surface Materials
V0 flame-resistant PC+ABS
Storage Conditions
-20°C to 60°C
Operating Temperature Range
-10°C to 50°C
Ingress Protection (IP)
20 with terminals
Operating Humidity Range
0-90% relative humidity, non-condensing
Electrical
Input Voltage
100-265VAC
Wattage
10/20/30/36/45/60/80/100/120/150/200
Input/ Output
Dimmable LED Driver Model

| Power | Model | Output | Input |
| --- | --- | --- | --- |
| 30W | YO680-D12030-A-DIM | 12V, 0-2.5A | 100-265 VAC |
| 30W | YO680-D24030-A-DIM | 24V, 0-1.25A | 100-265 VAC |
| 45W | YO680-D12045-P-DIM | 12V, 0-3.75A | 100-265 VAC |
| 45W | YO680-D24045-P-DIM | 24V, 0-1.5A | 100-265 VAC |
| 60W | YO680-D12060-A-DIM | 12V, 0-5A | 100-265 VAC |
| 60W | YO680-D24060-A-DIM | 24V, 0-2.5A | 100-265 VAC |
| 200W | YO680-D12180-A-DIM | 12V, 0-15A | 100-265 VAC |
| 200W | YO680-D24200-A-DIM | 24V, 0-8.3A | 100-265 VAC |
WARNING !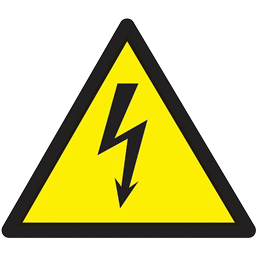 Disconnect Power
Check the label and ensure the transformer has the proper input voltage and wattage for the job. Check the wire markings to ensure they match the wiring diagram on this installation guide.
---
Basic Installation
1
Select a suitable location capable of supporting the weight of the transformer. Use the two keyholes in the transformer case. It is recommended that the transformer be mounting vertically with the wiring compartment pointing down.
---
2
Remove the wiring compartment knockouts and install strain reliefs. With power turned 0, route the input wires through a strain relief and connect L wire to red and N wire to blue. for all wire connections use only UL listed wire nuts and connectors of suitable size and type. The transformer case MUST be grounded in accordance with the N.E.C. Connect the ground wire to the transformer red wire.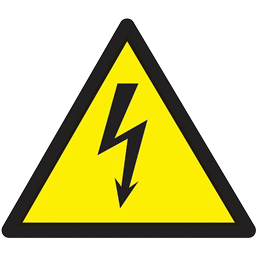 Warning
To reduce risk of electrical shock, unit shall be properly grounded in accordance with local regulations or codes. Failure to connect the ground wire will result in an unsafe installation that could lead to personal injury.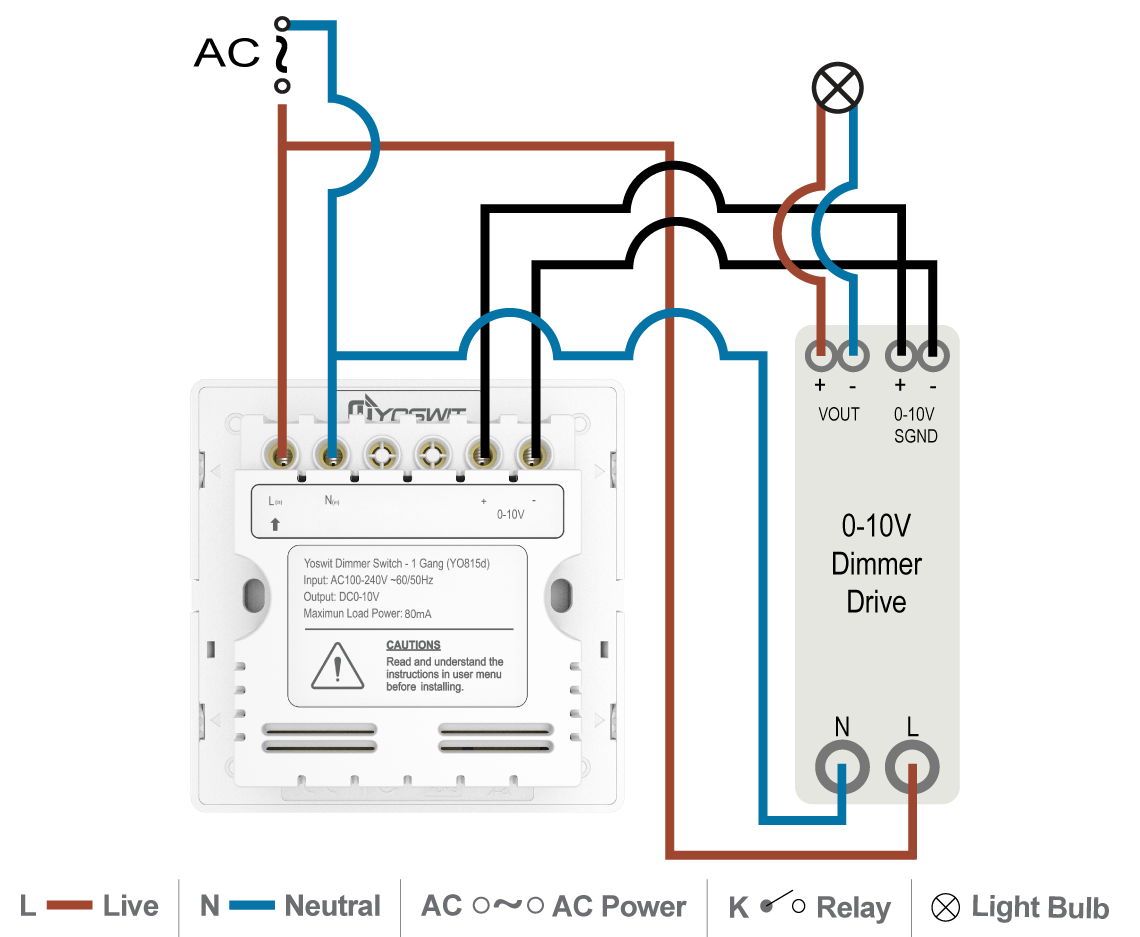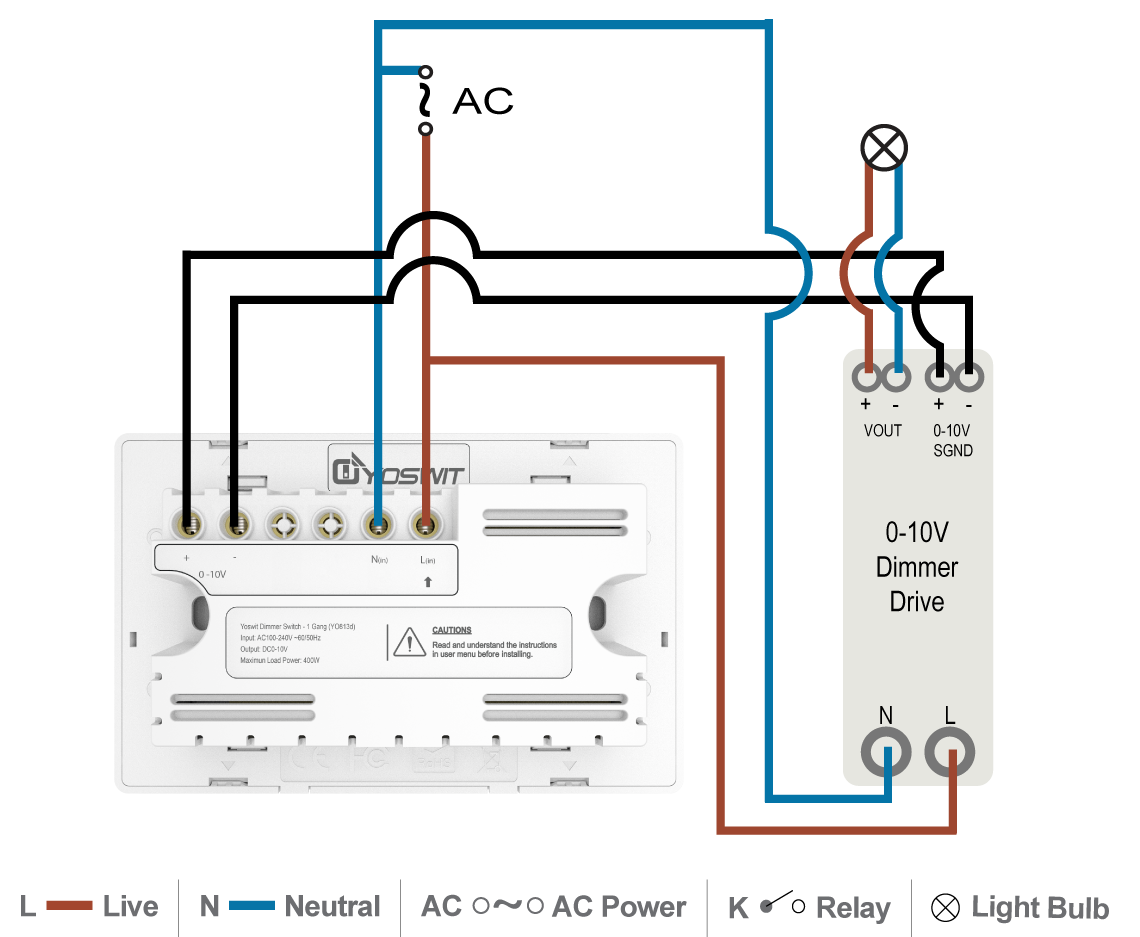 ---
3
Bring the wires of the light xture through the other open knockout and connect them to the transformer wires - positive to the red wire ( + ) and negative to blue wire ( - ).
---
Installation complete.
Download the Yoswit App to your smat device and enjoy it now!
Yoswit will automatically detect the switch and add to your device list.
Specialized in Smart Light Switches